About Me:
Welcome!
Age: 26
Gender: Male
Likes: Video games, RP'ing, Wood working, Computers.
Type[Girl interest]: My standards are far too high, and I'm on the lower half of the standards spectrum, so it's honestly not worth even mentioning. >.>
Gendou.com Roles: Gendou Awards Night Creator/Coordinator, Gendou.com Talk Show Host/Creator, 10k Post Club 2nd Member, Long-time RP'er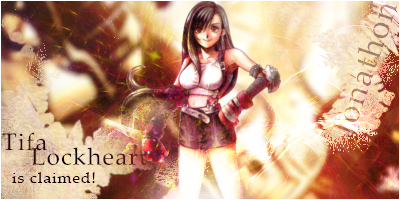 Favorite Games: Final Fantasy VII, Legend of Dragoon, Shin Megami Tensei: Digital Devil Saga 1 & 2, SMT: Nocturne, Valkyria Chronicles, Disgaea 3: Absence of Justice, Xenogears, Metal Gear Solid games, Metal Gear Ac!d 2, Wild Arms series, Atelier Iris: Eternal Mana, Gravity Rush

Favorite Movies: Seven Samurai, 007: From Russia With Love, Shinobi: Heart Under Blade, The Last Samurai, Kung-Fu Hustle, Shogun, Final Fantasy VII: Advent Children, Valkyrie

Favorite Artists: High and Mighty Color, T.M. Revolution, Nightwish, Dave Rodgers, Weird Al

Favorite Composer: Shoji Meguro

Favorite Anime: Escaflowne, Mobile Suit Gundam Seed, Cowboy Bebop, Samurai 7, Mobile Suit Gundam Wing

Favorite Shows (Non-anime): Most Extreme Elimination Challenge, The Daily Show with Jon Stewart, The Rick Mercer Report, Archer, Adventure Time

Favorite Songs: Devils Never Cry, I Wish I had an Angel, Dark Chest of Wonders, Calling to the Night, Invoke, Ready Steady Go!, White Night Imagination, Ever Dream, Sleeping Sun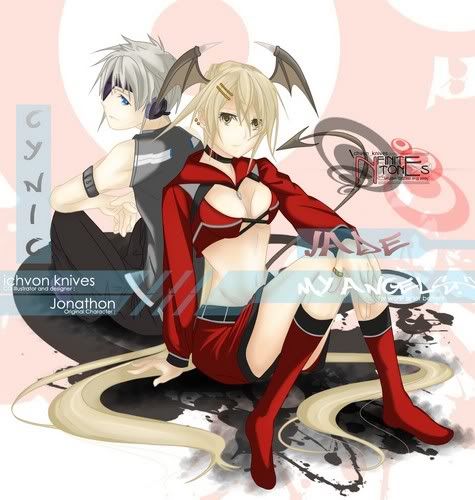 ~Regarding Jade and Cynic~




~An explanation~



Jade and Cynic are two characters that were spawned from my messed up psyche. They are similar to the angels which appear in cartoons over a persons shoulders that try and get them to do bad or good things given a certain situation. My angels on the other hand are what cause me to be such a critical person.

Jade - The manifestation of my jaded personality. She symbolizes all of the good media (in other words, movies/games/music/books/tv I like) and does her best to keep attention focused on her rather than the unproven. Apathetic by nature, she is rarely gets excited for upcoming works. She is prone to using seduction in order to keep attention on herself so that hope doesn't get too high for things that probably won't be any good upon release. She has grown tired of constant disappointments caused by thinking the best of upcoming works and instead prefers to wait until the product has been released before taking the slightest bit of interest in it or offering endearing comments on it.

Cynic - The manifestation of my cynical personality (obviously). He dislikes almost everything and prefers to look for the flaws as opposed to the good points. Has little faith in anything and only concedes to being wrong (sort of) when experience has proven the thing in question was better than expected. The rest of his time is spent picking things apart on a critical level regardless of what it may be. Chances are, if everyone loves it, he doesn't.

They are two halves to a whole, Jade is the one who dulls my excitement for future works by reminding me of the disappointments which I was led to in the past and instead pushes me to stick with the media that has proven itself to be of high quality. Cynic is the one that tries to break things apart on a critical level once the work has been released/experienced, looking for inherent flaws or problems with the piece. Depending on Jade's reaction to an upcoming game/song/movie/tv show/etc he will either begin criticizing it right away or remain quiet until Jade's feelings towards it are known.

So that's how these two lovable characters came to be. Parts of my personality that grew so strong they manifested themselves into an Anime form. The actual artistic depiction of the characters was drawn by Ich, a member I know from Gendou.com. He accepted my request to feed my crazy desire and drew the characters based upon my description of them. For that, I am very grateful. As a small way of repaying him, Cynic and Jade want you to check out his profile on Gendou.com in case you want to see some of his other works, he's very talented and has Jades approval.