Greetings everyone! It looks like things have slowed down again. My summer has started up so i have enough free time to actively watch over an RP again. This RP will have a limited cast of up to 6 people (Including myself). If you become interested in joining, please remember to post your profile to me for checking before posting here in the thread. If you have any questions, you can also PM me and I'll answer to the best of my abilities!

I really don't want to scare anyone away because I'm doing a Kingdom Hearts RP. If that worries you, please note that this RP is a Super Prequel - meaning you can jump into this RP without ever having played the games to know what's going on.

This RP has an intended of theme of 'Growth.' Something to keep in mind. The plot is much more mentally fleshed out in my mind than previous RPs. So if things do slow up in places while this runs I will easily 'push' things forward.

The RP has officially began. If you simply MUST join you can still PM me your profile.


---


Square Hex 2014 Presents:

*Not a Real Company!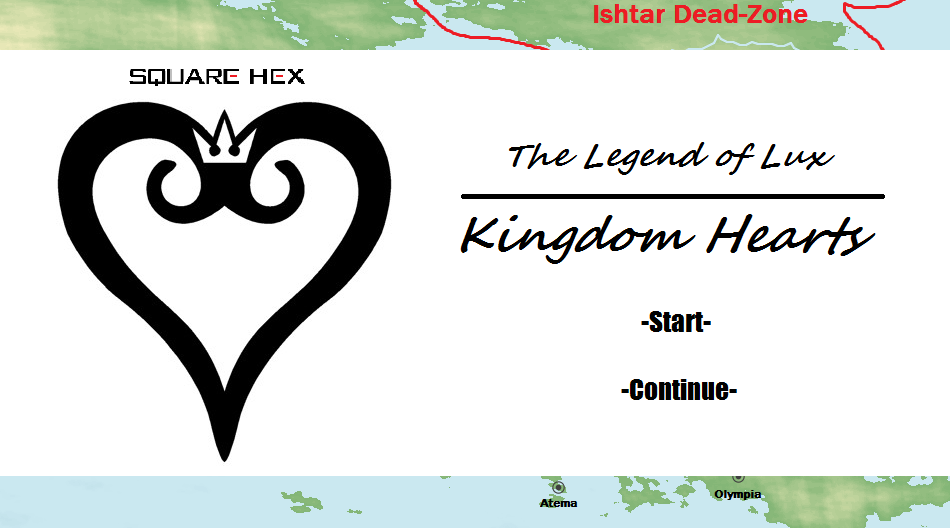 ---

Background


Alpenashia - the World that Once Was

Map of Alshia (Kind of Big)

Once upon a time, during the age of fairy tails... before the universe of many diverse worlds were formed. There was just one world. This world, Alpenashia - was the one world where all worlds originated from.

The world of Alpenashia was massive. So much so that no single person knew the full extent of the world's lands. Upon these lands, there lie many different beings, who lived in peace with one another. These races had developed for centuries on their own before they came into contact with one another - thus many sorts of diverse cultures existed. This world was filled with an abundance of Lux. Fragments of light which the beings of Alpenashia used to perform dazzling magic, and power fantastic Magiteck machines. Indeed, after the races became aware of one another, there was a long age of peace and prosperity, as the races sought to explore all of the world.

Far in the north, the explorers of the nations came across a frozen wasteland. Here, they where assailed by dark, malevolent beings known as Phantoms. These phantoms where openly hostile to these travelers, and in the explorer's frightful retreat, they ultimately lead the Phantoms back to their homes. The Age of Prosperity came to a frightening end, as the beings of Alpenashia found themselves under attack for the first time in recorded history.

The world survived the first assault after the practitioners of Magus turned their magic against the attackers. Despite the progress and power of 'Offensive Magic', there was simply not enough people who could perform Magus available. The lack of Magicians in the world made it impossible to defend all parts of their Realm, and thus some areas where forfeited to the invading Phantoms. These places quickly turned dark, foul, and foreboding as their realms where corrupted by the shadow of the Phantoms. Even worse was that these areas slowly but surely encroached out further, threatening to someday engulf entire towns and cities. These places, known as the Dead Zones, became unapproachable. Some towns and cities had to be abandoned after Dead Zones blocked their lines of transportation. Indeed, the People of Alpenashia have been steadily retreating for the past hundred years.

The key to Alpenashia's survival was believed to lie in Kingdom Hearts, the source of all Lux in the world that would give the power to turn back the tide of the Phantoms. In the Town of Twilight - a place where swords are used exclusively for peaceful meditation - there were a set of children whom lived out their peaceful days, unaware to the dangers that plagued their world, and neighboring Dead Zone that was slowly encroaching upon their homes.

Though unaware of it now. Someday, they will change the world.


The Heroes - and the Power of 'Bonds'

Throughout the RP. The heroes will be faced with making choices as they proceed with their adventure. While some choices are simply made to progress things forward, some choices have wider effects on what happens in the world. Making the 'right' sort of choices can lead to better outcomes, and even avoid some conflicts altogether. On the other hand, making bad choices can lead to a deplorable spiral that will be difficult to get out of. As RP master I keep track of the choices that are made against the intended storyline, and map out - as well as implement the outcomes later on.

Along with these choices, the characters share 'Bonds'. Opinions and feelings towards one another during various points in the story. The state of people's thoughts on one another show their worth during important parts of the story. Characters with strong bonds will be able to overcome crisis's that may come up due to bad choices previously, though - alternatively - bad bonds may lead to the story following darker paths. Bonds also may affect how tied fates of individual characters are, such as who happens to end up in the same group when the party is separated. At certain parts of the RP I'll ask participants to write out their character's thoughts and feelings towards the rest of the major cast for me to interpret.

The first such check will happen after the Childhood Prologue arc. This first arc will have a time skip between it's end and the start of the story proper.


A Prelude of a Prelude - Differences from Kingdom Hearts Proper

This RP is meant to be standalone from the actual Kingdom Hearts series. This RP utilizes ideas from it - but nothing else. You're not supposed have to had played the games to know what is going on in this RP alone.

[But Muh Canon!][Okay.]

We aren't going to have other KH characters show up here.

The RP starts at a point in time before Keyblades came into being. The concept of the 'sword' being used as a weapon is not commonly accepted during the start of the RP. You may be surprised at how the Keyblade comes about in the story - as well as how how the heroes can obtain 'it' for themselves. Don't worry too much about this when writing your profile, I'll go into more detail about it when I review it.

I won't be strictly faithful to the original canon. Much of my knowledge is based off of Chain of Memories, KH2, as well as Birth By Sleep. I will listen if you found I betrayed something in the canon, but I won't break the established storyline laid out for this RP just to conform to it. (no one's really going to care about KH fanfic #1234125153!)

This RP has an intended ending. The start of the Keyblade War as mentioned in the main series. There are still three main acts to get through before that happens - let's see if we can ram through it all this Summer!

The Disney and Final Fantasy characters as they're known in the Original Series are also not supposed appear in this RP. The 'worlds' might be seen in some form during the RP, however with certain differences. The 'cameo' aspect of KH is not a feature in this RP.

Phantoms are essentially the Pureblood Heartless as they're known in the other games. You may be faced with fighting powerful Phantoms as well as other powerful non-phantom beings as the Rp progresses.



Boring Stuff - Rules

Rules:
Gendou City Rules
Be Reasonable
If you're going to have an extended absence make sure to please tell us here. Otherwise I'll assume you've dropped.
There is no such thing as 'waiting for your turn to post'. If you can post and continue the RP, do it! We don't bog down the story to wait for one absent person here!



---

Creating A Character


There are two major parts of your character bio. First is 'Basic info' such as your character's name and appearance. Second is your character's 'Skillset' which describes the abilities and traits your character carries into battle. Please do not post anything in this thread until your profile has been ok'd by me!

Basic Info

Name:
Age:
Gender:
Appearance: (Pic or Words, but everyone loves pictures more than words)
Weapon: (For this RP, practically any weapon is fair game to use except for Guns. If you know what a keyblade is and want to use one, please note it's entry in the 'But Muh Canon' section)
Personality: (Let's be diverse, yeah?!)
Bio: (All the characters will share something about their pasts in their final bios. This will be explained further when I start reviewing your profile.)



Skillset
This part of your character details your character's skill and expected performance in battle. This profile will ultimately need to be ok'd by me before it can be posted - so if you feel unsure about anything then please fill out what you can and PM me with your current profile and any questions. We will be able to resolve any issues together from there - what's seen here is just enough for anyone whose interested to make their first draft!


Way - Choosing your character's Way dictates the sorts of abilities you will be able to write for your character. The three ways all have inherit weaknesses in them - thus it is important for the party to work together in order to overcome each others individual weaknesses. The Available Ways Are:



Way of Strength - Impressia
Characters whom specialize in close range physical combat that favors aggressive tactics.
(+) Acess to 'Medium' and 'Strong' Phys Skills. Typically greater physical endurance and speed.
(-) Limited to 'Weak' Magic Skills. Limited to magic that reinforces your character's stats or heals. (Limited to Light and Darkness Elements). Limited to weak defensive skills.

Way of Balance - Battailia
Characters who seek to have the widest array of combat possibilities.
(+) Able utilize full range of elements. Capable of casting medium strength barriers.
(-) Limited to 'Weak' or 'Medium' Strength Skills in all Physical and Magic categories.

Way of Wisdom - Magus
Defensive and Long Ranged Characters who utilize powerful magics to defeat their foe's.
(+) Access to 'Medium' and 'Strong' Magic Skills of any element. Capable of casting Barriers. Larger Magic reserve. Can also posses strong defensive skills.
(-) Limited to 'Weak' Physical Skills, Strong Magic takes time to cast. Oftentimes severely disadvantaged when the fighting gets up close.




Basic Skill Set (Up to 4 skills total) - These are special skills outside of basic weapons swinging and magic casting that a user can readily call on in any fight. Basic skills merely need time to recharge between usages for the most part. Depending on the Style you choose, you can write Strong, Medium, or Weak Physical or Magic Attack Abilities, as well as Defensive, and Non-Attack skills. Though Kingdom Hearts has it's own library of skills and magic ready to use, please don't feel limited to those skills alone. Feel free to consider making up new skills of your own.

The 'Strong Medium and Weak differentiations are based on the power of the attack and it's recharge rate which are both positively correlated. (The more the power of the attack increases, the longer it should take to recharge). The complexity of the skill also decides what magnitude it is.

Advanced Skill Set (Up to 3 skills total) - These are advanced skills and techniques your character can use to change the tide of a fight. Be careful though, as each skill this powerful toolkit can only be used once per battle. More often than not, you will find all sorts of strong abilities listed here. These are your character's 'trump card' skills. You can get your skills in this category okay-ed now, but they will be available for your characters to use in the RP ONLY after it's progressed a little bit story wise. The limitations set by choosing a 'Way' are not as strictly enforced in this set.




---

Current Records

Phantom List
1) The Shadow - A Common Phantom
2) The Darkball - A Floating Phantom

Journal

Childhood Intro

Ch 0-01 - Beginnings in the Town of Twilight
Forta and Her Brother, Fujiin, are siblings living in Twilight Town. After Fuujiin loses his book, Forta enlists the helps of the local children to help look for it. This leads them to the tunnelways under the town, where they are suddenly chased by a malevolent 'phantom'. Thanks to a Powerful Magus named 'claudius'. Forta is saved. But Fuujin's whereabouts are unknown after that. Months later, Forta returns to school, with no memory of her brother. A group of friends forms around her, worried about what had happened to her due to the incident.

Ch 0-02 - Magic Cannot Make Dreams Come True
Some time has passed and Forta is fast friends with the group that surrounds her. But Celia, a Magus user, is scheduled to leave Twilight Town to continue Magus Training at Magus Order. Forta promises to make her wish come true before she leaves.

Later, Fatuita and Celia are pitted together in a match where they must choose a partner to fight with them. Celia chooses Forta, and Fatuita - a haughty magus prodigy, chooses Lico - one of the most powerful fighters in the class. Fatuita hatches a plan with Lico that involves trying to draw out a Phantom that had harbored itself inside her after the incident by injuring Forta severely but not killing her. To which Lico agrees.

Using her new move, Lico unleashes her previosuly limited power on Forta. Which results in her death.

Ch 0-03 - Childhood's End
With a Dead Zone, a wasteland inhabited by phantoms, spreading towards Twilight Town, the population is quick to try to abandon it. The children meet one last time in the Ice Cream shop where they met a week before the fateful match.

Fatuita approaches them and reveals that she was behind all of what had happened to Forta. The party give calm responses, save for Vadim - a normally quiet and timid boy - who lashes out violently against Fatuita. Lico comes to Fatuita's aid, and blocks Vadim's attempts to strike at Fatuita. The boy leaves the group, emotions astir.

Later, Vadim tries to attack Fatuita in an ambush. But it defeated. Fatuita leaves him Forta's Key Shaped Toy attached with a keychain and mysterious heart shaped emblem on it. Telling him to bring it back to her the day he 'grows up'. Fatuita says that she will admit Forta is someone worth saving when that time comes.

Thus, their childhood comes to an end as the children leave Twilight Town with their families.


The Departure

Ch 1-01 - The Story Begins Anew
Many years after Twilight Town Fell, the adjoining cities nearby are now being hounded by the expansion of the Dead Zone that similarly took Twilight Town. To avoid that fate, the Blade Schools banded together and decided to utilize their normally peacefully skills in order to oppose the Phantoms assailing their homes. Thus, the children such as Lynette and Roland found themselves in the Blade Union, passing their skills to many eager candidates to face the terrors outside.

Constantine was the ftonrline for attacks against Phantoms. And demanded many bodies to assist in it's defense. Thus, when the relatively peaceful town of Sprockett came under attack, the Blade Union had little to immediately spare in terms of manpower. Instead, Lynette and Roland where sent their with a small contingent of soldiers to hold out until the main force arrived. It was there that they would all meet again.

Fauita and Celia, now apart of Magus order, were dispatched to the town to deny the Phantoms of the Lux Node that they saught to take for themselves. It was their job to Absorb the large quantities of Lux in that node prior to the town falling into the Hands of the Phantoms. Though uncertain at first, Roland, the overall commander of the blade Union forces there, allowed Fatuita to do this, in exchange for her assistance in protecting the people leaving the town.


Ch 1-02 - Out and About
The group fought together to ensure the Lux node would be adsorbed, and for the town to be evacuated. The node was adsorbed, but the taks of protecting each and every civilian was too much for the few people at hand. Taking whoever they could, they left Sprokett in the wake of a large movement of Phantoms. After days of marching, to everyone's suprise, they came upon a large army from Blade Union. The one that Roland was supposed wait on.

The Failure of the defense of Sprockett was pinned on Roland. Who was then banished from the Cities under blade union control. Much of the group, including Lynette who wasn't held responsible for the event, decided to work towards helping Roland redeem himself. Fatuia and celia on the other hand, with their mission complete, were stranded, and the most common ways to get out of the area, save for walking on foot were denied to them. They all ultimately decided to head to Constantine, the next logical stop on the journey. There Roland could have a new start as a Blade Union member, and Fatuita and Celia could get closer to being able to report back home.

Fatuita and vadim had a minor spat over the wooden key Forta had left behind, when Fauita attempted to make use of it as firewood. It wouldn't be the last time tensions would flare up between them.


Ch 1-03 - The Enchanted Forest

To get into Constantine from the Magus Order's fortress, the group had to go through what was known as the Enchanted Forest. At the entrance to place, they encountered an Old Wizard who pleaded with them from help. When Fatuita ignored him, the group were ambushed by a wave of Phantoms.

After the phantoms where defeated, the Wizard explained that the entire forest was now crawling with Phantoms. All due to a spell that he had used which was meant to drive the phantoms away. Instead, as the party just experienced, the spell was attracting phantoms to the location. The forest was a critical path for Blade Union members going to Constantine, and apparently the were still people trapped in the castle. The group ultimately agreed to help out. They were lead through the forest by the Wizard, and encountered many phantoms along the way.

Close to the Castle in a clearing, the group took a rest from all of the fighting. They came upon an abandoned wagon, possibly owned by a trader had attempted to pass through when the phnatoms arrived. It was there that tensions flared up between Fatuita and Vadim, over the key. The two attempted to talk it out, but it only seemed to confirm that they mtutually didn't understand each other at all.

While tihs was going on the wizard had been scouting the castle for ways in that didn't have too many phantoms. The groups respite ended when he came back, announcing he found a way in.




Main Cast



1) Forta - (Ugo)
Titles:
Deceased - A Character that has died in the story.





2) Lynette - (LD)
Titles:
Whimsical Spellsword - A title for one whom can play the tunes of both Magus and Blade in harmony.




3) Roland - (Shinji)
Titles:
Bladesman of the Phantasm - A title for one who wields their sword in search of the specter of purpose.





4) Celia Ravenholm - (Emiya)
Titles:
Frigid Magustress - A title for a Magus user whose facade is as cold as their Magus Arts.





5) Xeno Night - (Night)
Titles:
The Necromancer - A descriptive title for a mysterious man whose deceptive smile hides their true intentions.
Missing - A character who is considered inactive in the RP.




6) Lico - (Kirby)
Titles:
Brave Bruiser - A title for a fighter who answers difficulty with unrelenting force.




7) Yuuna - (Mistress/Hope)
Titles:
Arch Witch - A title for a Magus user with techniques that are as dangerous as they are impressive.
Missing - A character who is considered inactive in the RP.






8) Vadim Bortsov - (Temp)
Titles:
Sordid Staffman - A title for a warrior whose strong emotions from the past guide him in the present.
Anger Management - The scars of his past childhood occasionally causes him to lash out towards others. Without the proper medication, it doesn't take long for people to become weary of him.





9) Charon Hyperion Highwind - (Fenris)
Titles:
Electro Master - A title for a Magus user whose skills have become the stuff of gossip and rumor.
Missing - A character who is considered inactive in the RP.





10) Fatuita - (Ugo)
Titles:
Utilitarian Magus Genius - A title for a cynical Magus user whose inquisitive view of Magus shocks and awes in equal measure.


---


My Characters

Edit 1 This profile reflects this character as she appears in the prologue arc, including her basic skill-set. Both will see changes after the prologue is over representing her personality as well as summary of her time between the prologue and the start of the story. This basic skill-set shown here is at the 'childhood level' below as what is seen for the rest of the characters below.

I didn't meant to seem to pull a fast one here everyone! I originally wanted to have characters edit their skills to have a 'childhood' version, but that would've been too much work for you guys! The basic skillset seen here was meant to show the format I was looking for when writing them.



Name:

Forta (Childhood)

Age:

12

Gender:

F

Appearance:
Personality:
An energetic girl with an earnest disposition. Forta has spent much of her life helping in caring for her weak brother. Though not considered the smartest of the two, Forta is admired by the adults for her honesty. When she grows up Forta wants to become a Hero(ine) of Justice.
Weapon:
Wonder Key - A durable large wooden key purchased as a souvenir from the Town of Locks. It's about as large as any regular training blade. Though considered a toy key, it can open up real locks if you hit them hard enough!
---
Skillset
Note that at the start of the RP your advanced skills WILL not be immediately availible. Rather, they're picked up as the story progresses forward. I've shown my character's Advanced Deck here for referance.

Way
- Impressia
Basic Deck:
1)
Limited Striker (Non Attack)
- The user is a fighter who limits their attacks to a limited but quick and powerful strikes. The user's sword strikes hit with a bit more power as opposed to their contemporaries, increasing damage she inflicts by a little bit. Forta can overpower opponents when using her weapon, increasing the chances that she'll overcome an opponent during a parry, or simply when striking blades against one another.
2)
Swing Strike (Phys Medium)
- A powerful wide slash where the user swings their weapon from behind and down onto an opponent. The movement of the attack allows the user to reach close range opponents just beyond their weapon's length while attacking. The user can alternatively strike upwards to send the enemy flying.
Swing Strike can be used as the start an attack chain, or as a sort of finisher skill for a combo. 20 Second recharge Period.
3)
Sonic Stroke (Phys Strong)
- The user attacks the enemy with two Successive Thrusting Attacks with their weapon. The attack can quickly close in up to medium distances - though alternatively they can combine the two thrusting attacks into one to reach enemies from a long distance.
40 Second Recharge Period.
4)
Lux Convergance (Non Attack)
- The user reinforces their strength with the power of Lux for a period of 30 seconds. While under the effects of this skill, the range of the user's weapons are slightly increased. Each attack the user performs will also have additional light damage in addition to it's regular physical damage with each strike.
45 Second Recharge Period.
---
Advanced Deck:
5)
(Locked)
Brilliant Countermeasure (Mag Medium)
- The user summons an array of 6 Spears of Lux that then rush into the sky to strike a distant opponent. The spears fly out in a wide pattern, meaning that they will strike the opponent at different angles (in front) when the attack reaches it's destination.
The skill can intercept opponents at long range. A fast opponent can dodge the skill at longer ranges. Up close however requires more specialized techniques to guard against an attack form all sides very quickly.
6)
(Locked)
Zantetsuken (Phys Strong)
- The user takes a brief moment to focus and ready their sword, and then performs a powerful sliding dash that strikes the opponent with a lightning-fast sword stroke, dealing serious damage to the opponent.
The powerful slash from this skill requires specialized defensive skills in order to feasibly counter. Otherwise the attack is practically guaranteed to hit an opponent if the user isn't intercepted during their moment of set up. Medium Range.
7)
(Locked)
Ougi: Naiyatetsuken (Phys Strong)
- Forta's ultimate skill - a mastered version of Zantetsuken. Like the previous incarnation - Zantetsuken, after a brief moment of preparation, the user punishes the enemy with a powerful single sword strike. Additionally, after the initial attack, the opponent is immediately struck with a powerful burst of light planted by the initial strike that. The force of this secondary blast can send an opponent flying.
This powerful move requires specialized and very powerful defensive magic in order to even consider defending against. Otherwise, the only way to defend against the skill is to intercept during the brief set up period.