Eh, forget my final year. Reserving a spot XD
Initial draft, may subject to edit again. I also have slightly elaborated some of the religions. Just let me know if anything needs fixing.
Added Mana Overload ability, tidied up some stuffs.
---

Character Sheet

Name: Lyriel Vandesdelca
Gender: F
Age: 25

Appearance: [Show][Hide]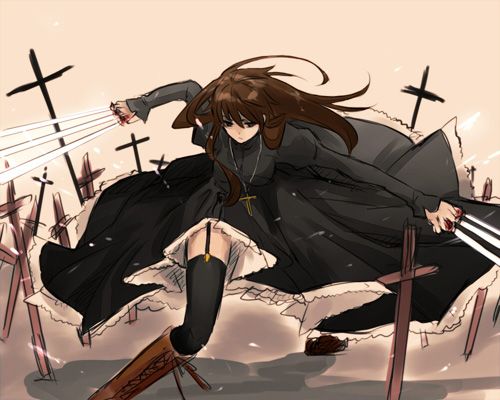 Weapons: Lyriel is able to use swords, shields, axes as well as polearm weapons such as pikes, halberds or spears. She is unarmed all the time, whether she works at the church or not.

---

Abilities

>> Light Element Proficiency

Lyriel is able to control and manipulate Light Elements, in accordance to her requirement. The ability is divided into two branches, Destruction and Defense.

Destruction Branch, as the name suggests, Lyriel uses the Light Element to create harm on her opponents. Most notable skills are her Trident Blades, which are a bunch of thin but sharp, Light Element projectiles with a size of a pebble that are quickly produced without much focus and mana, although the damage when hit on an opponent are mostly light. They serve as a distraction or disrupting people's attack pattern, buying time for the priestess to stage for a stronger attack.

Her known offensive Light magics are Grants, a blade-like, Light Element projectile, at a size of a short sword that will pierce and shatter upon hitting a target, and Gigrants, a set of triple blades of similar size with Grants in a triangular formation which surrounds Lyriel, before swiveling in high speed, damaging anything that is close to her. Both of the skills require a period of casting time and focus.

Her Trident Blade has a recharge period of 2 seconds, while her main Light magics has a cooldown of 60 seconds.

The Defense Branch serves mostly where the defensive skills are located. One of the iconic Defensive skills for Lyriel is her Reflect Barrier, which serves as a hard block for most Light and Medium based physical attacks, while deflecting projectile or ranged elemental attacks of the same magnitude. The Barrier may face breakage should it receives Strong attacks, physical or not. It is a circular, transparent barrier which is only active when supplied with Lyriel's mana. It absorbs all Light based attacks, however.

The Reflect Barrier has a cooldown of 20 seconds when deactivated.

>> Restoration Magic Proficiency

Aside from being skilled in handling Light Elements, Lyriel is also trained in healing magics. She can heal Minor and Light injuries without much effort, while those who has suffered Medium injuries and above require even more mana and focus. She can also remove status ailments, but limited to those normal ones such as poison. Lyriel can even remove Magic Corruption on a magic user, with the price that she has to bear the amount of the Magic Corruption that the person has.

Rumor has it that Lyriel is capable of resurrecting dead people, but the public has yet to see an actual case of human resurrection by her.

>> Arcane Warrior

By using her proficiency in Light Element, Lyriel can focus her mana to augment her martial prowess, allowing her to be a skilled close range combatant. Being as one of the priestesses of the Goddess Elemia, it was compulsory for them to take up alternate or supporting abilities to complement with their Element proficiency. She received basic trainings for swordsmanship, hand to hand and other weapons handling to utilize the ability.

The Arcane Warrior starts off as a passive ability, but can be improved further by activating it.

Whenever the Arcane Warrior stance is activated, Lyriel is unable to cast any offensive magics, namely her Destruction Branch in the Light Element Proficiency. She can only cast Defense Branch magics. Her endurance and agility are improved, allowing her stats to be on the same level as an average soldier. Even without the stance, Lyriel is still able to fight at close range, albeit much weaker.

The stance will be active for 180 seconds, before auto deactivating itself. It has a cooldown time of 360 seconds.

>> Mana Overload

Being mainly as a Magic user, Lyriel has access to a large pool of mana, and these mana will be converted into Element magics. With the Mana Overload ability, she can transfer these raw, unconverted mana into a person. Though transferred in small amounts it was claimed to rejuvenate most recipients, it is not recommended to transfer in large quantities of raw magic energy. When a person receives too much mana, it will cause an explosion, often leaving the victim wounded. This is because each person has their own limits in storing mana. A typical Clemence citizen will have smaller pools and storage of mana when compared to a trained sorcerer.

Even that, proficient Magic users such as Lyriel and other Magic-reliant users also face the risk of Mana Overload, as the same principle above can used against them. A typical Magic user will have their mana filled to the brim at the beginning of a battle, and when another Magic user with the Mana Overload ability, he or she will attempt to 'overfill' the storage, by transferring his or her own mana, through physical contact. Should the victim is unable to withstand the extra raw magic going into his or her body, there will be a catastrophic explosion, often seriously wounding or even killing the victim outright.

Lyriel utilizes this ability whenever she is going to fight against powerful monsters, often with heavy regenerative or Magic capabilities, as those might have been transformed due to severe Magic Corruption. Until now, she has yet to use this ability on a person.

Depending on the situation, Lyriel can use Mana Overload twice at most within a day. If she pushes the limit however, she will suffer Magic Corruption, leaving all of her Magic related abilities disabled and causing her to faint, due to the extreme usage of her mana pool, and the consequences that has resulted from its usage.

---

Personality: Lyriel is a reserved person, and does not take kindly to dirty jokes. She always gives out sarcastic comments, and occasionally, indirect insults whenever the situation permits her to do so. Other than that, Lyriel is sociable, just you need to be more mindful with your own words. Her rough attitude is due to her experience that kindness does not necessarily begets kindness in return.

Bio

Born in Clemence, the largest city in Istar, Lyriel had lead a comfortable life with her parents, whom are successful merchants within the city. She was raised carefully, as her parents wanted her to inherit their businesses. At that time, Lyriel simply obeyed her parents' request, until she met a group of traveling priestesses, following the teachings of the Goddess Elemia, assisting the poor and helping the ill. Although this is a normal occurrence for most merchants, it seemed quite fascinating and a fulfilling effort for Lyriel, who was barely a teenager back then.

She continued her studies, before deciding that she would be a priestess. Lyriel broke the news to her parents regarding her wishes, as per her expectation, they are not happy with her ambition, while stressing that it is a waste of time and she should be into commerce. Nevertheless, the parents decided to let Lyriel enroll into the Elemian Monastery, letting her experience the life of a priestess, and hopefully she will change her mind. To her parents' surprise, Lyriel managed to adapt herself to the plain, minimalist lifestyle of a priestess.

From there onwards, the parents gave in to her requests, and years later, Lyriel was a full fledged Priestess of the Elemia. She first tended to the Clemence's church, before going on a traveling group to the southeastern cities, such as Goldcrest, Barim and so on.

Initially, Lyriel was happy with her own current status. But when the time goes by, while meeting more and more people in her travels, she began to have doubts. Due to encountering several major incidents, her kind personality changed into a more anti-social, and now merely doing her job as a priestess, out of responsibility. Lyriel still maintained her stout devotion to her religion and her minimalist lifestyle.

She once thought about quitting her role as a priestess, but that would be certainly impossible, as being the servants of the Goddess is considered eternal, and disobeying it is a grave sin, unless she makes a pilgrimage to the ancient city of Sayen, where it was the final resting place for the Goddess Elemia...

---

Character Sheet [Seven Houses Side Arc]

Name: Myu Nakajima
Gender: F
Age: 21

Appearance: [Show][Hide]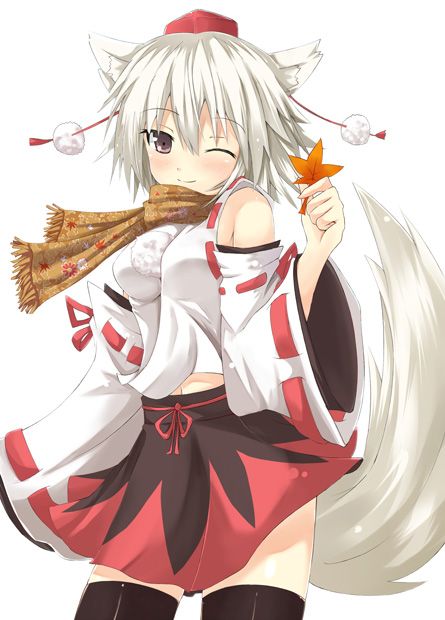 Weapons:

-> Autumn's Descent

A normal sized katana with a black scabbard, adorned with the designs of orange colored maple leaves. The blade itself seems normal, but whenever Myu uses it, it somehow causes falling maple leaves, especially she performs her special Nakajima house moves. It has a dull and a sharp edge, and can be used for non-lethal engagement, or otherwise. It was given by her Maxter when she was crowned as the 9th Bishop.

---

Abilities

>> Nakajima Swordsmanship

The Nakajima House adopts the normal sized katana as their main weapon. The swordsmanship is mostly focused on quick attacks based on their concept of Quickdraw, and defensive postures. Quickdraw is about drawing your weapon as fast as possible, landing an attack on the opponent, before sheathing the weapon back, preferably all in a single action.

Another main aspect of the Swordsmanship is the fighting stances. In Myu, she has two main stances: Brave Stance and Wise Stance.

Brave Stance is one of the main offensive stances for most of the Nakajima house members. Focusing on offensive maneuvers and attacks, the Brave Stance is versatile, capable of dealing with a myriad of situations, but it does not excel in any particular areas.

Wise Stance however, was the opposite of Brave Stance, as it purely focused on defensive techniques. When Myu is in Wise Stance, she will concentrate on her opponent's attacks and tries to defend herself from them through deflection or blocking, along with the occasional sidesteps. In this stance, she can either block, disperse or even deflect incoming projectiles created from magics or special attacks eg. wave slashes, by providing the equivalent amount of energy to counter the move (for example to nullify a special attack, Myu has to perform a special attack). In return, Myu is unable to move or advance to her enemy, as all of her efforts are on predicting and reacting on enemy movements.

Stance changing has a cooldown of 30 seconds.

>> Strike Arts

The basic special moves of the Nakajima Swordsmanship, and their properties change accordingly to the two stances. Myu mostly perform 2 special moves.

- Kanran Kikyou

Myu draws her katana and does a quick slash around her. It has decent range, although its power is a bit lacking. Good for crowd control. Kanran Kikyou can be performed twice when Myu is in Wise Stance, with extra mana consumption. Though the Wise Stance version is even weaker than the Brave Stance version, at the second Kanran Kikyou, it can knock down heavily armored enemies. Myu's favorite and her signature move.

It has a cooldown of 10 seconds.

- Hatou Rindou

Unleashes a stream of raw magic energy projectile that travels in a straight line that destroys anything in its path. Most powerful at midrange, where the stream expands into a triangular wave. During Wise Stance, it becomes a different skill. Rather than creating a projectile, Hatou Rindou in Wise Stance coats Myu's katana with raw magic that reinforces the blade, allowing it to cut through strong magic projectiles. The coating dissipates within 2 to 3 hits with the weapon.

It has a cooldown of 20 seconds for the projectile version of Hatou Rindou, and 15 seconds for the Wise Stance version.

>> Break Arts

Break Arts are the stronger, drastically altered version of Strike Arts, and can be performed on Brave and Wise Stances, although it has even higher requirements, requiring Myu to sacrifice a portion of her stamina along with a significant consumption of mana, which can lead to Magic Corruption if she breaks through a specified limit. She can perform 2 Break Arts at most, in a day. Every members of the Nakajima has their own distinctive Break Arts. Most of them are elemental based attacks, and it is the unique skill of the Nakajima.

- Cherry Ronde

After imbuing her katana with water elements, Myu swings the katana around her as if she was performing a Kanran Kikyou, freezing everything around her that comes into contact with its icy aura, before giving another icy strike at her frozen foes, causing tremendous water-element based damage.

- Rending Gale

Based on Hatou Rindou, Myu creates a deadly wind element, crescent shaped sonic blade even at long ranges. If blocked or deflected however, the sonic blade breaks down into even smaller sonic blades, throwing lesser skilled opponents into disarray and ensuring that some form of damage can be done to her opponents.

Break Arts has a cooldown of 60 seconds.

>> Soul Skill: Spirit

Fighters and warriors who possess the Spirit mental trait are skilled in fighting battles and skirmishes with long durations. Although they might start up slow and defensive at the early of a battle, they began to analyze their opponents' movelists and tactics, while getting the rhythm of the battle. Once they got the hang of the momentum, they will try to turn the tables to their favor, especially when their opponents starting to get tired as they took the initial attack.

This is a passive ability that activates whenever Myu enters combat.

---

Personality: Occasionally an airhead and gullible, especially when it comes to matters related to gold. Myu is borderline lazy and hates to work hard, although she enjoyed practicing her swordsmanship, and it is one of her favorite pastimes, cutting down swaths of dummies made of straws. She rarely provide her services for charity, and instantly rejects those who disagrees with her provided fees while being as wandering mercenary or guard. Mostly an upbeat, but blunt person.

Bio

Myu does not exactly remember her half-beast origin, aside that she was raised in an orphanage in Firovait. The caretakers there mentioned that she was left in a tunnel entrance leading to the underground cities. Should the citizens there did not discover the rattan basket she was in, Myu could have freeze to death. Having a decent resistance to the cold when she was a teenager, she was constantly being drafted to lumberjack operations, gathering wood.

After a while, Myu was tired with the slow moving life in Firovait. When she was just 16, she decided to move out, and perhaps find an adventure for her own. Her fellow friends and mentors initially disagreed with her plan, but nevertheless, granted her wish. Myu left Firovait, with the amount of gold enough to take her to Clemence.

But her travels are not by any means, smooth. Without sufficient knowledge of the outside world, Myu was cheated, mislead. In order to survive, she became a pickpocket, a thief, stealing others to sustain herself, and at the same time, quickly learning the survival tips and tricks in a city. She was very lucky, as she did not get caught by her acts, although there are several events that can lead her to the Vanguand's desolate prisons, if she fails to escape. At the end, she finally arrived to Clemence.

At the grand city known for its economic prosperity, Myu began to look around, until she discovered the Knight Academy. She wanted to enroll into the Academy, only to once again realized that she ran short of gold. On a fine day, Myu noticed a particular old man in white robe holding a distinct sword on the streets, possessing a large amount of gold, possibly more than enough to have her enrolled into the Knight Academy and secure some nice hot meals. Since that moment, she began to plan her attempt to steal the gold from him.

Several days later, Myu commenced her plan, and successfully stole the gold from the old man. Thinking that she was out from the trouble, she entered into an alleyway, and counted her earnings. Then, a blade was pointed at her throat. Myu quickly gave the gold back to the old man, while pleading for her life. As for the old man, he laughed at her, while saying that she is the first pickpocket to steal his gold successfully. From there on, he treated Myu for a dinner, and reveal himself as the Swordmaxter of the House of Nakajima, the Seven Houses of Swordsmanship.

The Swordmaxter felt that the half-beast girl has potential in the fields of swordsmanship, he took her into the initiation, and becomes a member of the Nakajima. Since then, Myu turned over a new leaf. She quit being as a pickpocket, and focused on her trainings in swordsmanship. She readily absorbed the knowledge of the Seven Houses, and learned the house moves at a faster rate compared to other typical members. Being the fact that she was a half human, most of the in-house members despised her, save for the Swordmaxter who brought her in and the Bishop members.

Myu quickly rose up to the ranks, as numerous house members challenged her, even those who are in higher ranks, along with several unexplained disappearances and murders on the members of the House of Nakajima. She just reached her 9th rank, as a Bishop few days ago. The Swordmaxter then gave her a katana, congratulating her efforts, though it seems that his figure of speech stated that he will gone for a long time. The next day however, Myu realized the ranking tattoo on her left hand immediately turned into 1st.

She was completely taken aback by the revelation. Realizing that she is no longer safe, being the fact that she is the now the Swordmaxter of the Nakajima, she decided to leave Adacar in search of her beloved old man, who was her mentor, and find out his fate along with 7 other Bishops.

Myu met Lyriel when she was in Goldcrest. Having terribly wounded by an unknown hooded assassin who possessed swordfighting skills which looked like from the House of Ikkikari, the Elemian Priestess stabilized her condition and brought her to a physician. They become fast friends, though it seems the relationship between them is much more than it seems...