Ah, this could be fun. Quick Question, though: Can we combine abilies for more effects?

Name: Rictus Karasu (I'm tired of being original.)

Username: Cryoclasm

Age: 18

Gender: Male

Past Occupation: Graphic Programmer/Lead Graphics Tester

Class: Mage

Starting weapon: Ice Orb Staff

Abilities:

Aqua Column- Summons a glyph that sprays water at high pressure in the direction of the user's choosing.

Frosty Pulse- Freezes water in the immediate area.

Cellular Genesis- Creates false body cells to replace those lost in battle. These cells fade as real ones take their place. This is a long-term spell that requires a lot of magical input, so it can't be used constantly.

Summoned Beast: Fenrir- Summons a large white wolf to fight alongside the caster.

Flight- If you need an explanation, please PM me.

(More coming later as I encounter scrolls and such.)

Real World Abilities:

Flight- Not the same as in-game, but consider it a really high jump. Like, ridiculously high.

Aqua Column- Summons a glyph that sprays water at high pressure in the direction of the user's choosing.

Borealis Blade- Sword with two blades that cross over one another three times, like a braid without the third strand. Can freeze water in the real world.

Cyber Transfer- Enter the game world.

Apperance:
Game World




Real World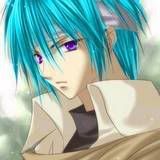 Bio: Rictus was a graphic programmer that was given the title of lead graphic tester for the purpose of beta-testing. He was tweaking the specs on some tree leaves when he spied a strange monster that he didn't remember in the distance. He went to investigate, but once he got closer, his arm and staff became wire-frames before everything went white.

If I'm too powerful in either world, let me know.


Sometimes, I have to wonder... Am I dreaming, or am I one of the luckiest men alive?